include "/var/www/banner.php"; ?>

---
HOME PAGE

FAMILY

PLAYDOUGH!

FLAT

GUESTBOOK

LINKS

ATARI PAGES
---
More about us
Welcome to the page about my (immediate) family! There are four of us: Myself, my Mum, Alex Haslam, my Dad, Steve, and my brother Tom. Finally after two and a half years, this page has some photos! :-)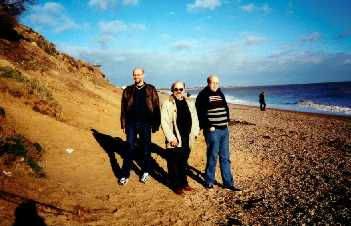 (l-r) Tom, Dad, and me (looking like a hunchback!!) on Dunwich Beach.
Mum and Dad are now living in Yoxford, Suffolk which is about five miles north of Saxmundham on the A12. They're living in a three bedroom cottage in Yoxford, called Lavender Cottage.

Dad worked for the BBC for over twenty years, though was made redundant several years ago. Until he retired, he worked at Restoration Direct, a small firm specialising in disaster recovery.

My mum, Alex used to work as a Nursery Nurse at Bush Hill Park Primary school in Enfield. She has a recipe for Playdough that was very popular with the children, get it from here.

Tom works in Marketing. He has a new job working for Tesco at their Welwyn Garden City head office. He lives in South London at the moment, but will be looking to move back north of the River Thames soon! Email Tom here.

Mum and Dad are not on the internet, but if you send email to me, I'll pass it on.

Right, is a family reunion, in the bar of the Griffin pub in Yoxford. My Dad's cousin from Australia, Marilyn Cook and her husband Peter were over here and stayed at Mum and Dad's for a few days whilst touring the country, looking for her roots! Myself, Tom and my Auntie Linda came for the weekend to meet them.


(l-r, standing at back) Marilyn Cook and Steve Haslam,
(l-r, sitting) Peter Cook, Alex, Tom, Linda, and me.
---
---
Please direct any comments to James Haslam & Family at: jfhaslam@zetnet.co.uk
Copyright © James Haslam - This page last updated on: 31/1/2004
---